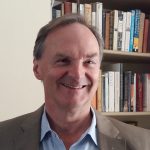 Nicholas Newton is a theatre, audio drama, television and film producer. He co-founded the Bush Theatre, London, the home of new writing in the UK and then worked for West End producers, Michael White and HM Tennent. In the late 1970's he produced his first West End production, Gigi. In the 1980's he joined the National Theatre as Special Projects Executive. He managed the television co-productions of the NT's repertoire for Channel 4 Television, the BBC and Time Warner working with Sir Peter Hall, Bill Bryden and Sir Richard Eyre. He also established the Royal National Theatre's Development Council which raised considerable funds for the National Theatre under the chairmanship of Dame Bridget Plowden.
In 1994, he formed Promenade Productions and produced The Big Picnic at the Harland and Wolff Shed, Govan, which he also produced for BBC Television. He has continued to produce in the West End including the award-winning production of Tennessee Williams' Baby Doll. In 2011 he co-produced the Lincoln Center's production of South Pacific with the Ambassador Theatre Group, Bob Boyett and Bob Bartner which opened at the Barbican Theatre and successfully toured the UK throughout 2012. In 2013 he co-produced The Pirates of Penzance with Scottish Opera and D'Oyly Carte Opera which toured venues in the UK. He has produced over 30 audio dramas and podcast series for the BBC.
He is an executive producer of the forthcoming film American Rose, screenwriter Charlotte Jones, producer Michael Kuhn for Qwerty Films. He is currently developing a new musical for the West End and produced Nuremberg by Jonathan Myerson a 16-part podcast drama released on BBC Sounds on 27th August 2021. He is the producer of the 16-part BBC Radio 4 and BBC Sounds drama podcast series Nazis: The Road to Power which was released worldwide on 12th January 2023.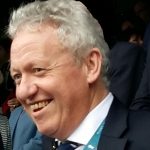 Edward Crozier is a producer and company director with over 30 years' experience in film, theatre and radio, as a Producer and Executive Producer. He has produced productions for the West End and in Scotland, including Rat Pack Confidential (Whitehall Theatre/Trafalgar Theatre), Honour (Wyndham's Theatre) The Creeper (Playhouse Theatre) The Celtic Story (The Pavilion Theatre, Glasgow). He was a producer on the production of The Big Picnic (1994) in the Harland and Wolff Shed, Govan and co-producer of the Lincoln Center award winning production of South Pacific. Co-Produced Baby Doll (Noel Coward Theatre), producer of Talking Heads (Bolton Octogen Theatre).He co-produced The Pirates of Penzance with Scottish Opera and D'Oyly Carte Opera which toured venues in the UK. He was an executive producer of Peter Grimes on Aldborough Beach and Producer/Executive Producer of Elaine Constantine's award-winning film Northern Soul. He is currently developing a new musical for the West End of London and several TV/Film projects.
Edward had a 17-year career in financial services, in which he specialised in structured products and capital raising for the entertainment/film sector. He is a former Director of Culture and Sport Glasgow (Glasgow Life), Director of Castlight Financial, Director Scottish Opera, a judge in the National Scottish Business Awards, former Chairman of Dance Base Scotland, Trustee/Director of Mayfest Arts Festival and was President of the Scottish Rugby Union (2015/2016). He is a past Chair of Rugby subgroup at Celtic Rugby. Previously he was Vice-Chair of Audit at both Celtic Rugby & Scottish Rugby. He is also a past Chair of Netball Scotland. He is currently Chair of the Theatre Royal, Glasgow, and a Trustee/Director of Scottish Opera Endowment Trust. He is Vice-Chair of Europe's most prolific professional theatrical producing Companies www.playpiepint.com. He is a Director of Bublico Productions. He was educated at Glasgow University's Business School and Caledonian University.